Golf Lessons with Mike Calbot – The Golf Doctor.See why Mike was Featured on CBS Weekly for 35 Years and personally trained over 26 men and women who became class "A" members of the PGA and LPGA.
Enjoy Golf Lessons at Raptor Bay Country Club in Estero, Florida
What's better than great golf lessons by the Golf Doctor? Golf lessons with the perfect backdrop, Raptor Bay Golf Club, the first course to receive Audubon International's Gold Signature Sanctuary Certification. Click here for directions to Raptor Bay Golf Club.
Prefer your own setting? Just let us know. The Golf Doctor is available for private lessons or public events at your location. Contact us to discuss the specifics.
Golf Lessons with Mike Calbot The Golf Doctor take on a whole new dimension with his unique Triad Golf Lesson system of learning.
Mike Calbot developed the Triad Golf Lesson system in the mid 70's and trademarked this unique approach to golf lessons for his Golf Schools and Golf Clinics.
Triad means that there are three sides to learning golf:
So often, instructors only work on the technique side of the swing and students usually do not accomplish what they could have, had they incorporated the other two sides of the triangle.
There are 5 basic levels to the Golf Lessons Triangle:
Beginner Golf Lessons: The beginner does not have the knowledge in technique nor do they have to have the physical attributes or the mental side established.
Novice Golf Lessons:
Intermediate Golf Lessons:
Advanced Golf Lessons:
Expert or Professional Golf Lessons: Many techniques are employed. The mental side must be strong and physical conditioning is a must for endurance and longevity
There are three basic golf swing types:
Swinger: Swinger types have a more pivotal action.
Hitter: Hitter types have a more linear motion.
Hitter/Swinger: Hitter/Swinger types have both the pivot and the linear brace motion.
There are differences in each technique. No matter which technique is employed, there is no disagreement that basics are the key.
Golf Lesson Basics: Grip, Aim, Posture & Stance
Grip, Aim, Posture and Stance is the main route, along with the physical makeup of the person, as to how he or she will swing the club. Of course, we have laws, principles and our personal preferences, which are also involved.
Developing a Pre-Shot Routine. There are many ways to approach a golf ball and detailing this approach will allow the student to incorporate the positions that they need to learn. If you cannot address the ball 10 times out of 10 times the same way, you have no chance of hitting the ball 10 times consistently the same way.
Personal Learning Methods – Feel, Sight or Verbal. Ascertaining whether the person learns by feel, by sight or by special wording is important for effective communication. The basic premise behind my teaching is that there are no bad students, only instructors who cannot communicate to help them achieve realistic goals (realistic goals are set by both the player and their coach). A good teacher is a teacher who can help his student set and realize their individual goals and not determined by how many clients they have, or how much they charge or, by how well they play. A great teacher is determined by how well they communicate with their students to get results.
"If you Enjoy Golf, You'll Love Playing Better".
Golf Lessons with the Golf Doctor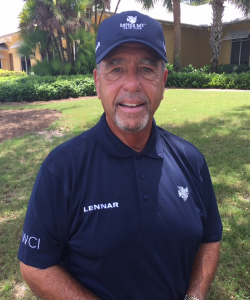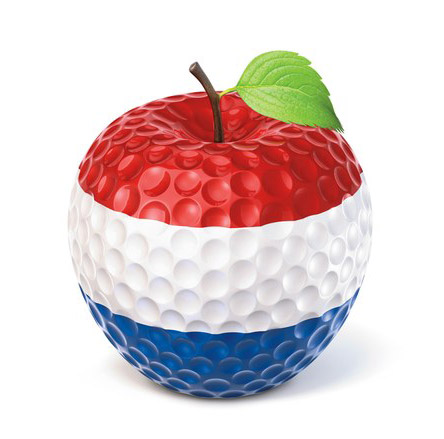 Best Golf Teachers in America
State of Florida 2013-2014
Golf Digest Magazine
Mike Calbot is the owner/operator of The Mike Calbot Golf Academy established in 1978.
Mike has been associated with and in the business of golf since the late 60's. He has traveled extensively in golf and has been seen in over 50 countries around the world as a renowned Golf Trick Shot Artist, professional golf instructor, master clinician and public speaker.
In his travels Mike has come into contact with nearly every type of golf operation conceivable which has allowed him to be one of the more knowledgeable individuals in the world in the business of golf instruction. He has successfully operated as an entrepreneur and independent contractor in the golf business since 1978. Prior to 1978, Mike was head professional for a private club for 6 years and assistant professional at several other country clubs earlier in his professional career in the late 60's including the famed Marco Island C.C which was home to the late Gene Sarazen.
Mike has an instructional TV series entitled "The Golf Doctor" which has been seen on Wink-News a CBS affiliate for 35 years and is viewed by millions of people annually. In addition, Mike is the author of a golf instructional video "Learning Golf" (produced in 1978), published writer (Golf tips and Golf articles). Mike can be seen and heard weekly on the Radio/TV weekly show WhereToPlayGolf.com which he gives golf advice and tips to its listeners.
Mike Calbot as golf instructor, swing analyst and golf trick shot expert, travels the world giving performances, schools, clinics and corporate outings, which allow him continuous exposure. His Golf Studio boasted a healthy clientele in the thousands and has personally given over 85,000 lessons.
Raptor Bay Golf Club located in Bonita Springs, Florida, is home to The Mike Calbot Golf  Academy.
Mike has had the opportunity to lecture thousands of professionals over the years on the art of effective communication and teaching philosophies. He was a guest speaker at 19 PGA Sections for Practice House Golf Inc. He has personally trained over 26 men and women who became class "A" members of the PGA and LPGA.
In 1970, Mike was responsible for establishing the instruction programs for hotel guests, conventions and outings hosted by the Marco Island Country Club under the Director of Golf Bill McDevitt. At Pelican's Nest Golf Club, Miromar Lakes Beach & Golf Club and later at Old Corkscrew Golf Club where he was the Director of Instruction, Mike has been responsible for establishing the instructional programs and for working with the Ritz Carlton, Registry Resort Hotel and many other Four and Five Star Hotels in orchestrating clinics, exhibitions and instruction packages for conventions and hotel guests.
Mike remains very active in giving instruction to personal clients from around the world and very instrumental in the development of junior golf in SW Florida in the mid 70's to early 1980's.
He was the SWFPGA Chapter Junior Chairman from 1976 to 1982 at which time he was on the board and president of Southwest Florida Junior Golf Association. Some of Mike's previous juniors have been multiple winners on the PGA and LPGA tours such as Nolan Henke and Terry Jo Myers. Mike also works with players on the European tour, Champions Tour, PGA and Nationwide tours.
His community standing is solid in both his professional field and as an active supporter of local charities and was an honorary board member of the Children's Hospital of Lee County from 1993 to 1999.
Calbot has been an advisory board member to the PGM program at Florida Gulf Coast University from 2001- 2006. Mike's passion for the game of golf, hard work ethic, unique ideas love of instruction and fair business practices will keep him active for many years to come.
Golf Schools
We offer a variety of golf learning experiences for all levels of golfers. From the beginner and recreational player to the advanced player, we design development programs to fit your needs. Learn to play naturally with a logical approach to capture your own inner talents.
How? With many unique and dynamically proven methods of coaching combined with over 45 years of teaching experience!

Private Lessons
Designed for junior, men, women and senior golfers who are just beginning to play or would like to improve their game in a group environment.

Junior Gulf
Designed for the junior golfer (ages 7-17 years) interested in learning the game of golf and/or expanding their knowledge of the game.

Multi-day Schools
Designed and customized for any golfer, group of friends or golfing family looking to perfect their skills.

3-Hour Workshop

Corporate Programs