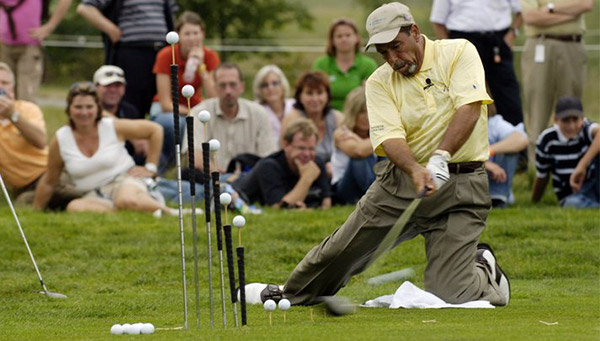 Mike has had the opportunity to lecture thousands of professionals over the years on the art of effective communication and teaching philosophies. He was a guest speaker at 19 PGA Sections for Practice House Golf Inc. He has personally trained over 26 men and women who became class "A" members of the PGA and LPGA.
In 1970, Mike was responsible for establishing the instruction programs for hotel guests, conventions and outings hosted by the Marco Island Country Club under the Director of Golf Bill McDevitt. At Pelican's Nest Golf Club, Miromar Lakes Beach & Golf Club and later at Old Corkscrew Golf Club where he was the Director of Instruction, Mike has been responsible for establishing the instructional programs and for working with the Ritz Carlton, Registry Resort Hotel and many other Four and Five Star Hotels in orchestrating clinics, exhibitions and instruction packages for conventions and hotel guests.
Mike remains very active in giving instruction to personal clients from around the world and very instrumental in the development of junior golf in SW Florida in the mid 70's to early 1980's.
He was the SWFPGA Chapter Junior Chairman from 1976 to 1982 at which time he was on the board and president of Southwest Florida Junior Golf Association. Some of Mike's previous juniors have been multiple winners on the PGA and LPGA tours such as Nolan Henke and Terry Jo Myers. Mike also works with players on the European tour, Champions Tour, PGA and Nationwide tours.
His community standing is solid in both his professional field and as an active supporter of local charities and was an honorary board member of the Children's Hospital of Lee County from 1993 to 1999.
Calbot has been an advisory board member to the PGM program at Florida Gulf Coast University from 2001- 2006. Mike's passion for the game of golf, hard work ethic, unique ideas love of instruction and fair business practices will keep him active for many years to come.